ANNOUNCEMENTS
Summer Reading Loss - Don't let it happen to your child!
Summer reading loss refers to the decline in children's reading development that can occur during summer vacation times when children are away from the classroom and not participating in formal literacy programs. The reality of summer reading loss is well documented. In order to support reading development over the summer months, Cole Elementary encourages families to check out our online resources: Tumble Book Library, BookFlix, and Storyline Online. Also, Cole teachers encourage families to make use of our excellent county library on Pioneer Avenue and all the summer events planned for kids at the library.

BookFlix

contains thematically paired and interactive fiction and nonfiction titles. Animated classic storybooks introduce early learners to the delights of reading. The robust and varied selection of titles provides something for everyone, leading to a positive and rewarding experience for all.

Storyline Online

streams videos featuring celebrated actors reading children's books alongside interactive illustrations. Storyline Online is available 24 hours a day. Each book includes supplemental curriculum developed by elementary educators, aiming to strengthen comprehension and verbal and written skills.

Rockie's Extra Tickets

Hello Cole Cougars! We have extra Rockie's tickets available to the community. Please read the form attached here for more information. We hope you will join us!
Student Registration

Hello Cole Cougars,
Registration begins April 8th and ends on April 19th. Please make sure to register new and returning students between this time frame. Stop by the main office if you have any questions or need assistance with this process.

Thank you
Welcome Back!

Hello Cole Cougars, welcome back!
We hope you had a wonderful and relaxing Spring break. Some reminders as we get back into the school groove:

The girl's volleyball team is playing today April 8th against Miller in the Administration Building @ 4pm
Thursday April 11th is an early release day. Students are released at 12:15pm
Earth Day is on April 22nd.
Colorado Rockies Field Trip is on May 9th @ 10am. Please remember to turn in field trip slips.

Memorial Day is on May 27th.

AVID Family Night March 28th, 2019 5:30PM

Come join our family night from 5:30pm- 6:30pm

State of the District Community Meeting!
More information available
HERE
!
The Great Kindness Challenge
Cole Elementary has been registered to be part of the nation-wide initiative of The Great Kindness Challenge which takes place the week of Mon. Jan. 28th-Fri. Feb. 1st. We will have daily themed Kindness Dress Up Days, Collect Kindness Coins (spare change) for students in Liberia, and celebrate our kindness, academic, behavior, attendance and other student successes at the Student Award Assembly on Friday February 1st. Click here for more information on the Kindness Challenge.

Reminder!!

Please remind students to keep their phones and personal belongings in their backpacks. Phones are not allowed on school grounds. If students need to contact parents they can do so from the main office.

AVID Family Night Thursday January 17, 2018 @ 5:30PM
Come join us for our very first AVID Family Night in the Cole Elementary Gym from 5:30pm-6:30pm. Learn more about a new academic program students are participating in this year! Enjoy a free dinner as well as community resources about college scholarships and career pathways.

Click here for the registration form!

Free Love and Logic Classes

Starting tomorrow night January 9th, 2019 from 5:30pm-6:30pm.
Dinner and childcare is provided. If you are interested in attending please register by filling out this form: click here.

Happy 2019 from Cole PTO

PTO Meeting on Thursday January 10th at 5:30PM! Children are welcome and dinner is provided!
Flyer attached here.

Welcome Back Cole Cougars!
Happy New Year! We hope you enjoyed your winter break! Let's get back in the groove of things by waking up early, bundling up for the cold weather and enjoying the new year! We will have our Student Awards Assembly on January 3rd at 2:45PM.

Reminder: If you plan on taking your student(s) home after the assembly, please stop by the main office to sign them out.

Happy Winter Break!

May this holiday season be full of love and joy!
Happy Winter break, we'll see you next year on the first day of school: January 2, 2019.

FREE Love and Logic Parenting Sessions!
Love and Logic is a way of working with children that puts parents back in control, teaches children to be responsible, and prepares young people to live in the real world, with its many choices and consequences (adapted from www.loveandlogic.com). Free childcare and dinner provided!
Register: Sign up by Wednesday, December 19th. Registration forms can be found attached here or in the main office.
Dates: Every Wednesday from January 9th – February 13th, 5:30 – 6:30 PM at Cole Elementary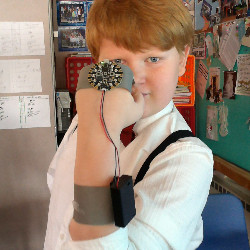 Coding, it's what we do.
Celebrating an hour of code throughout the month of December.



Cole Elementary Christmas Program

December 17, 2018 at 12:30pm in the Administration Building 2810 House Avenue
Pre-K and Kindergarten Program:

December 19, 2018 at 2:00pm in Cole Elementary Gymnasium.
Winter break will begin on December 20, 2018 and we will return on January 2, 2019.